Reading Latin Epitaphs
A Handbook for Beginners, New Edition with Illustrations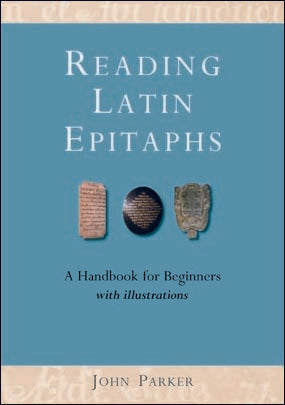 This compact book reproduces fifty-two memorials in Latin taken from churches situated largely in the West Country.  Each memorial is accompanied by a translation and by notes on the grammar. The book is aimed at all who would like to be able to read Latin epitaphs in churches, and whose knowledge of the language may be sketchy.
The introduction explains the conventions involved in lettering, abbreviations, Latinized personal names, and stock phrases.  It is followed by a very brief Latin grammar and notes on Roman numerals and dates.   At the back of the book there is a word list containing all those words found in the inscriptions with numbered references, plus a selection of words which are commonly found in inscriptions generally, though not in those printed here.
By combining these resources in one book, the author equips the reader with the tools to tackle other epitaphs beyond the pages of this book and further afield.
Every attempt is made to help the reader understand the context in which each inscription was composed. For instance it is stressed that the composers of such epitaphs were skilled Latin scholars, and that there are very few errors to be seen.  Errors attributable to the stonemasons or sign-writers are noted and corrected.
From reviews of the 2008 new edition
"Each epitaph is a mini-biography captured in a work of art. So it is worth learning how to read them. You will not find a better way of doing so than this book. The author John Parker has a genuine talent for teaching this difficult subject."           
Michelle Hockley, Ancestors Magazine, July 2009

"teaches you how to read the epitaphs that marked the deaths, and lives, of our ancestors. . . . written for you to work through from beginning to end, but I found you can also slip it into your pocket and take it with you to a church for instant decoding."
Sarah Williams, Who Do You Think You Are?, February 2009