The White Man's Burdens
An Anthology of British Poetry of the Empire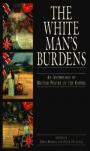 In 1898, notoriously, Kipling urged the imperialist nations to 'Take up the White Man's Burden' the following year, in Satan Absolved, Wilfrid Scawen Blunt angrily replied, 'The White Man's Burden, Lord, is the burden of his cash'. Such ideological conflicts - and a whole range of intermediate positions - feature in much of the poetry British writers produced about the British Empire over the four centuries of its rise and fall. The discourses of postcolonialism have drawn attention to the major and continuing significance of the cultural products of the period of Western imperialism. But, so far, they have concentrated largely upon fiction and upon the writings and experiences of those parts of the world that were subject to colonialism and imperialist oppression.
For the first time, The White Man's Burdens offers a cross-section of British poetry in which the Empire was the burden of the song. The material, much of it previously uncollected, is drawn from a broad cultural spectrum that includes narrative poetry, heroic verse, patriotic ballads, music hall monologues, and poems from Punch. A substantial Introduction sets the poems in the context of the economic, political, and ideological development of British imperial rule, and headnotes historicize the poems themselves, which are presented chronologically - from George Chapman's 'De Guiana: Carmen Epicum' of 1596 to Fred D'Aguiar's 'At the Grave of the Unknown African' of 1993.
The result is a poetic summary of the changing attitudes of an imperialist nation to its own imperialism, attitudes which range from jingoism and racism, through religious idealism and liberal anxiety, to outright disgust at the whole enterprise.

"The title is from Kipling, of course, as is the epigraph, but it is Kipling footnoted by Wilfred Scawen Blunt, 'The White man's Burden is the burden of his cash'. In these days, when publishers seem eager to publish anthologies on every conceivable subject, and when the nature of the British Empire is a source of fascination and debate at academic and colour supplement and more popular levels as well, it is surprising that we have had to wait so long for this 'cross-section of British poetry in which the Empire was the burden of the song'. It was worth the wait… The expected and familiar are all here, the set-pieces and the party-pieces and those that (sometimes undeservedly) have become the stock of jokes and gibes. But there is much unfamiliar material here, and some interesting juxtapositions are created by the choice of arrangement by chronology, rather than by author or theme, which encourages the reading of each poem in the context of the historical moment of its production. This is a valuable source book, It is also a good read - I couldn't decide whether to keep it in the study or by the bed." (Terry Barringer, Royal Commonwealth Society Collections, Cambridge University Library, African Research and Documentation, No. 78, 1998)



Part 1 16th century: George Chapman.
Part 2 17th century: Michael Drayton; Andrew Marvell; John Dryden; Aphra Behn.
Part 3 18th century: Daniel Defoe; Alexander Pope; George Berkeley; Frances Seymour; James Thomson; David Garrick; Thomas Morris; James Grainger; Anne Penny; Phillis Wheatley; Anna Seward; James Freeth; George Dallas; William Cowper; Hannah More; William Blake; Erasmus Darwin; Robert Shouthey; William Shepherd.
Part 4 19th century: Thomas Campbell; William Wordsworth; James Montgomery; Charles Lamb; Felicia Hemans; Reginald Heber; Thomas Hood; Alfred Tennyson; Samuel Rogers; George Beard; Richard Chevenix Trench; Eliza Cook; John Sheehan; Arthur Hugh Clough; Charles Mackay; Christina Rossetti; Aldred Comyns Lyall; Gerald Massey; William Allingham; Francis Hastings Doyle; Charles Kingsley; "Aliph Cheem" (Walter Yeldham); William Rossetti; William McGonagall; Wilfred Scawen Blunt; Douglas Sladen; George Robert Sims; Alfred Austin; George MacDonald; Rudyard Kipling; Lewis Morris; William Watson; Sarah Geraldine Stock; William Ernest Henley; Owen Seaman; Henry Newbold; Hilaire Belloc; Robert Williams Buchanan; Thomas Hardy; Algernon Charles Swinburne.
Part 5 20th century: Henry Newbolt; A.E. Housman; Arthur Christopher Benson; Francis Thompson; Alfred Noyes; John Milton Hayes; Harwood Steele; Lawrence Eastwood; Billy Bennett; Alan Sanders; Noel Coward; John Masefield; W.H. Auden; Stevie Smith; Philip Larkin; Jon Stallworthy; Fred D'Aguiar.