Eighteenth-Century Brechtians
Theatrical Satire in the Age of Walpole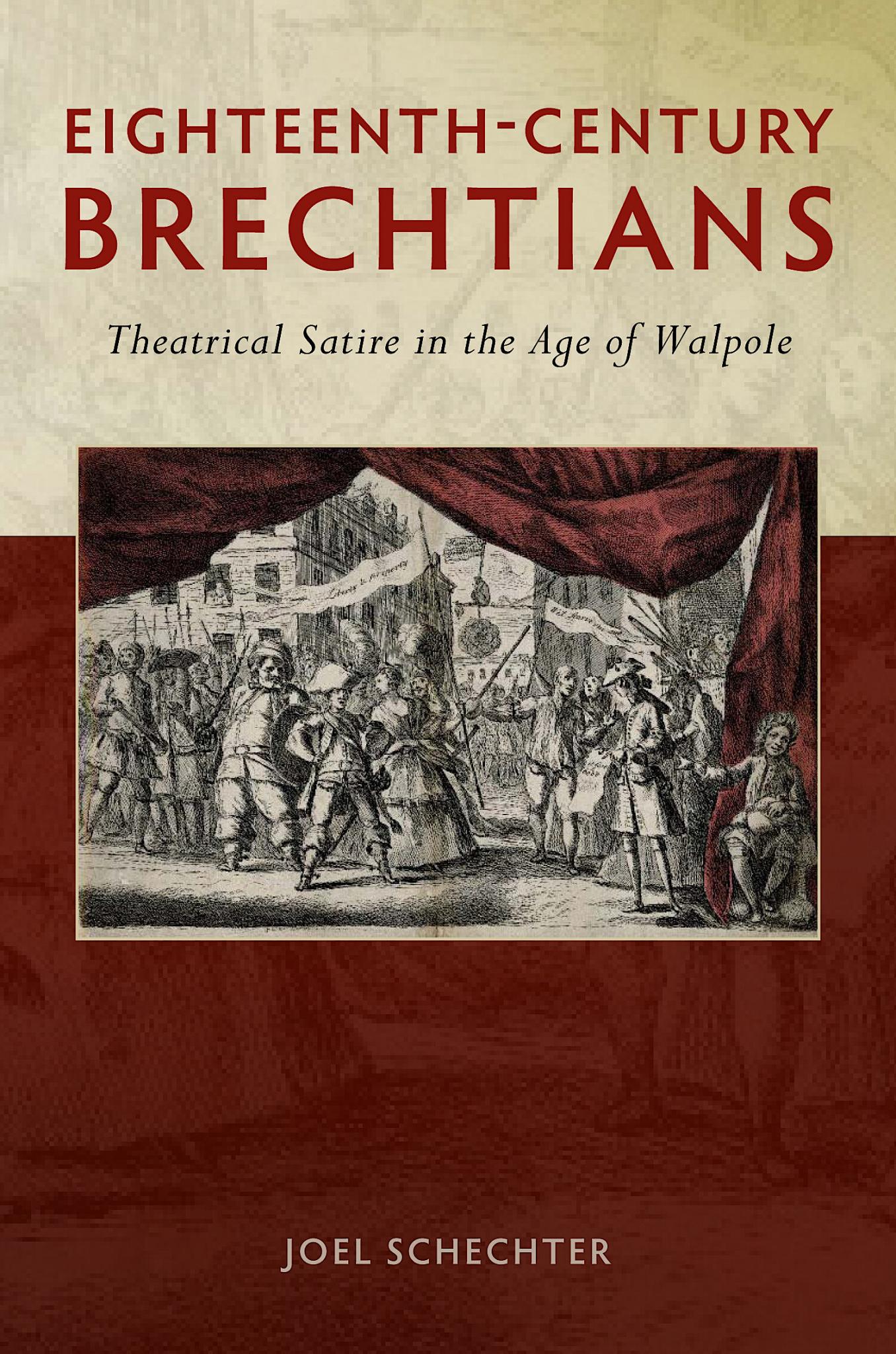 Discussing the actor mutiny of 1733, theatre censorship, controversial plays and Fielding's forgery of an actor's biography, the book contends that some subversive Augustan and Georgian artists were early Brechtians. Reconstructions of lost episodes in theatre history include a recounting of Fielding's last days as a stage satirist before his Little Haymarket theatre was closed, Charlotte Charke's performances as Macheath and Polly Peachum in The Beggar's Opera and the 1740 staging of Jonathan Swift's Polite Conversation on a double bill with Shakespeare's Merry Wives . . .
Some documents in this collection offer another perspective on theatre history by employing fiction – speculative reconstructions of Georgian theatre events for which historical facts are scarce or missing.  Brecht also employed fiction to reconsider history in short stories he wrote about Lucullus and Socrates, and a novel about Julius Caesar.  The stories and several new letters attributed to Fielding delve into theatre history and keep some of its controversy alive in new ways, historicizing fiction and theatre somewhat as Brecht did.
It offers an unconventional, new reading of theatre history, Brecht's tradition and stage satire.
Eighteenth-Century Brechtians is a collection of essays by a well-known author on comic and radical political theatre.  It looks at stage satires by John Gay, Henry Fielding, George Farquhar, Charlotte Charke, David Garrick and their contemporaries through the lens of Brecht's theory and practice. 15 b&w illustrations.
Eighteenth-Century Brechtians is an ambitious and engaging study that takes the reader on a time-travelling journey through the past, present and future of Brechtian theatre.
Eighteenth-Century Brechtians is not only illuminating but engaging, and articulates one of Schechter's central tenets: that theatrical activism is as necessary now as it was in the eras of Gay and Brecht, and that practitioners today could learn much from the radical subversives of the past.


Hannah Manktelow, University of Nottingham, UK
Theatre Notebook, Volume 72, Number 1, 2018
Joel Schechter's Eighteenth-Century Brechtians: Theatrical Satire in the Age of Walpole aims to locate an epic theatre that may have existed before Brecht articulated its definition in the twentieth century.
Schechter's approach proves illuminating. He paints a picture of a vibrant theatrical climate, filled with meta-commentary, political activism, cross-dressing, and satire aimed at exposing hypocrisy and corruption in institutional structures.
[He] offers a fresh, critical engagement that indicates how the political spirit enlivening the dramas of Dario Fo, Vaclav Havel, David Hare, and Caryl Churchill could find its antecedent in the eighteenth century. The book offers twenty-four chapters, some very brief and playful. This structure allows Schechter to interlace conventional scholarship with fictional narratives, dramatized conversations, transcribed diaries, and comparisons to modern movements such as Occupy Wall Street and figures such as Yoko Ono and Chelsea Manning. These interludes, asides, and anachronistic nods provide a Brechtian approach to historical scholarship, honouring the spirit of his source material and providing an engaging reading experience.
Mathew McMahan, Emerson University, Theatre Survey, Volume 59, Issue 2, May 2018

Matthew McMahan

Joel Schechter may have written the perfect book for this historical moment.
Schechter brings a lively and highly readable style to Eighteenth-Century Brechtians, which makes the daunting task of teasing out the parallels between two seemingly disparate aesthetic movements easy to follow. The breadth of the connections that Schechter makes is impressive [. . . ] The result is a clear, nuanced, novel reading of theatrical events and plays that demonstrates their vitality and relevance today.

Eighteenth-Century Brechtians is part history, part exegesis, and part polemical manifesto. As we enter a period of political uncertainty, the satirical voices that Schechter celebrates here may prove useful once more. Readable and concise, the book is accessible enough for an undergraduate but with enough sophistication for more advanced students.
Seth Wilson, University of Georgia, Journal of Dramatic Theory and Criticism, Volume 32, Number 1, Fall 2017
Not every book about the eighteenth-century theatre alludes to Chelsea Manning, Occupy Wall Street and Bernie Sanders, or concludes with a chronology that jumps from 1763 ('James Boswell visits Newgate Prison') to 1928 ('Brecht and others adapt Gay's The Beggar's Opera'). Eighteenth-century Brechtians: Theatrical Satire in the Age of Walpole makes these contemporary references and goes further: it is introduced by the theatre historian Peter Thomson as 'a bid to jolt the anglophone theatre out of its political doziness', and by its author Joel Schechter as 'a mapping of paths to future satire and activism, through a survey of earlier routes explored by Brecht and his precursors in England'. [ ] there is much here to prompt further investigation, not least for any post-Brechtian producers who happen to open the book.
Michael Caines, The Times Literary Supplement, October 2016
 It is very jauntily written, as might well be expected from this author, and his enthusiasm for his subject matter is at times infectious.
Michael Wilson, Professor of Drama, Loughborough University
This is a book like no other. Schechter delights in liberating his own fantasy, in allowing his imagination free play in interpreting, not only what was, but also what might have been and what, with the right incentives, might be.
This new book has been written as a challenge to the twenty-first century, a bid to jolt the Anglophone theatre out of its political doziness.

Peter Thomson, Emeritus Professor of Drama, University of Exeter

This is an intelligent, radical book, intriguing from the start and relentlessly imaginative. Always accessible and affable in style.
Graham Ley, Professor of Drama and Theory, University of Exeter
The Cast of Brechtians in Order of Appearance
List of Illustrations
Foreword by Peter Thomson
Introduction
Eighteenth-Century Brechtians
Cross-Dressing Soldiers and Anti-Militarist Rakes
Polly Peachum and the New Naiveté
Pirates and Polly: A Lost Messingkauf Dialogue
The Duchess of Queensberry Becomes Polly Peachum
Macheath Our Contemporary
Swift in Hollywood: Another Messingkauf Dialogue
Swift's Polite Conversation with Falstaff
Henry Fielding, Brechtian Before Brecht
Fielding's London Merchant, and Lillo's
Literarization of Fielding's Plays
Tom Thumb Jones, Child Actress
A World on Fire
Fielding's Cibber Letters: Counterfeit Wit, Scurrility and Cartels
Bertolt Brecht Writes The Beggar's Opera, Fielding Rewrites Polly
Stage Mutineers
Charlotte Charke's Tit for Tat; or Comedy and Tragedy at War: A Lost Play Recovered?
Mrs Charke Escapes Hanging
Garrick and Swift's School for Scandal—With a Digression on Yoko Ono
Brecht Praises Garrick's Hamlet
A Portrait of the Artists as Beggar's Opera Disciples—Including David Garrick, Epic Actor
Walpole in America
The Future of Eighteenth-Century Brechtiana: Polly Exonerated
Conclusion: The Future Promise of an Earlier Age
Eighteenth-Century Brechtians: A Timetable of Events
Bibliography
Index