Grand-Guignol
The French Theatre of Horror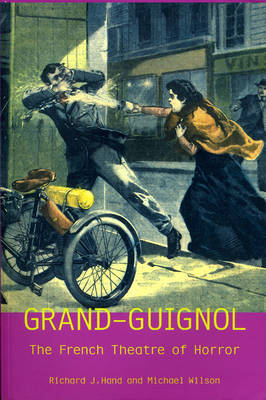 The Théâtre du Grand-Guignol in Paris (1897 - 1962) achieved a legendary reputation as the 'Theatre of Horror' a venue displaying such explicit violence and blood-curdling terror that a resident doctor was employed to treat the numerous spectators who fainted each night. Indeed, the phrase 'grand guignol' has entered the language to describe any display of sensational horror.
Since the theatre closed its doors forty years ago, the genre has been overlooked by critics and theatre historians. This book reconsiders the importance and influence of the Grand-Guignol within its social, cultural and historical contexts, and is the first attempt at a major evaluation of the genre as performance. It gives full consideration to practical applications and to the challenges presented to the actor and director.
The book also includes outstanding new translations by the authors of ten Grand-Guignol plays, none of which have been previously available in English. The presentation of these plays in English for the first time is an implicit demand for a total reappraisal of the grand-guignol genre, not least for the unexpected inclusion of two very funny comedies.
'… the genre has left more of a mark on British and American culture than we may imagine.' 

Gothic Studies, May 2004
 'Richard J. Hand and Michael Wilson . . . manage in a number of telling ways to make the subject their own. . . . Hand and Wilson's main interest in Grand Guignol is . . . that of present-day theatre practitioners seeking to understand how these pieces might be able to work for fresh audiences. . . . they also prove themselves to be highly astute when it comes to examining these works in the light of contemporary (especially post-Freudian) critical theory. . . . performance practice is continually interrogated by critical and historical insight.'

Gothic Studies, August 2003

1. Jack! (lui!), Oscar Metenier
2. The Ultimate Torture (La Derniere Torture), Andr de Lorde and Eugene Morel
3. The Lighthousekeepers (Gardiens de Phare), Paul Autier and Paul Colquemin
4. Chop-chop! (La Veuve), Eugene Heros and Leon Abric
5. Tics! or Doing the Deed (Apres Coup ou Tics), Ren Berton
6. In the Darkroom (Sous la Lumiere Rouge), Maurice Level and Etienne Rey
7. The Final Kiss (Le Baiser dans la Nuit), Maurice Level
8. The Torture Garden (Le Jardin des Supplices), Pierre Chaine and Andre de Lorde
9. Euthanasia (L'euthanasie), Ren Berton
10. The Kiss of Blood (Le Baiser de Sang), Jean Aragny and Francis Nelson