The Boggart
Folklore, History, Place-names and Dialect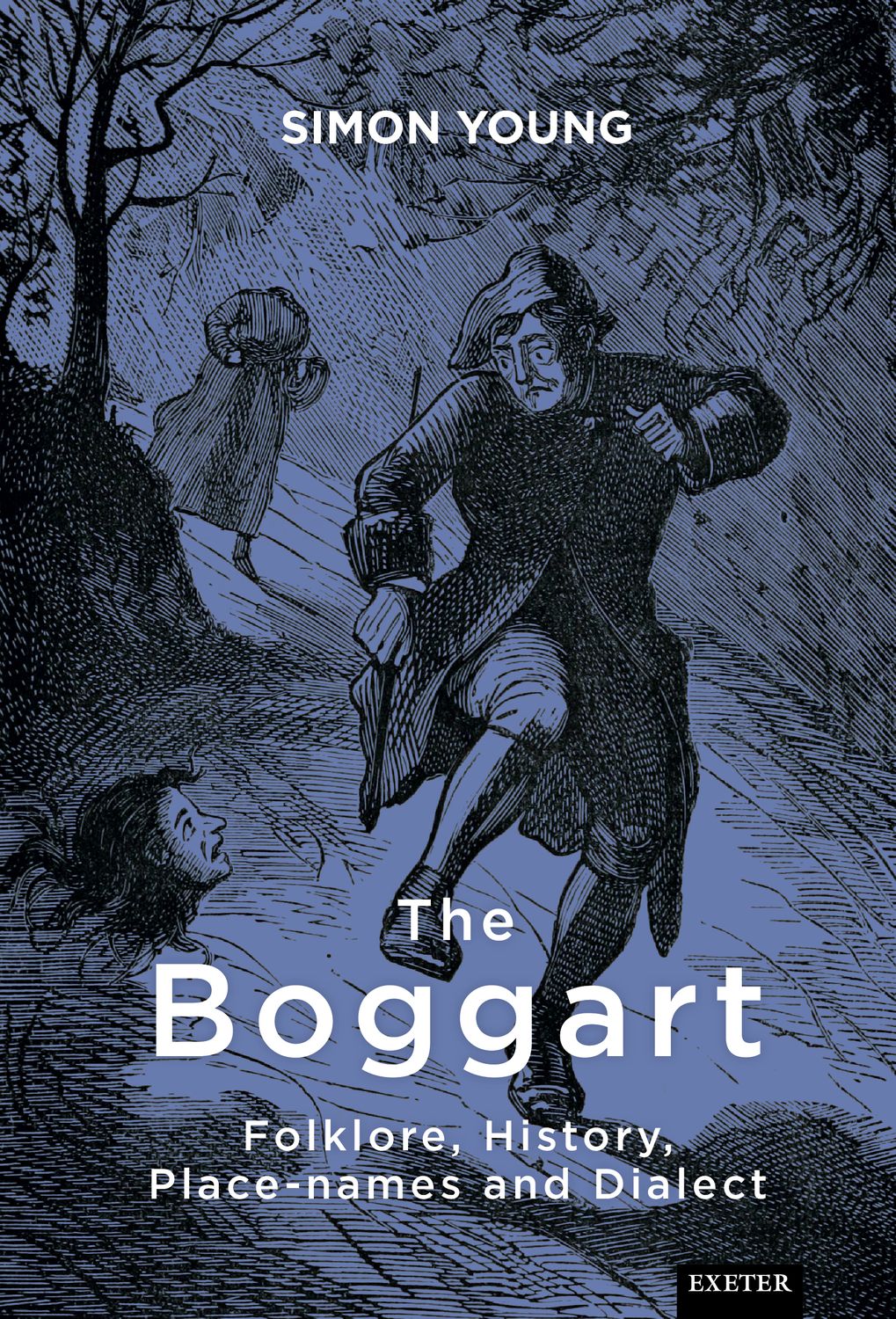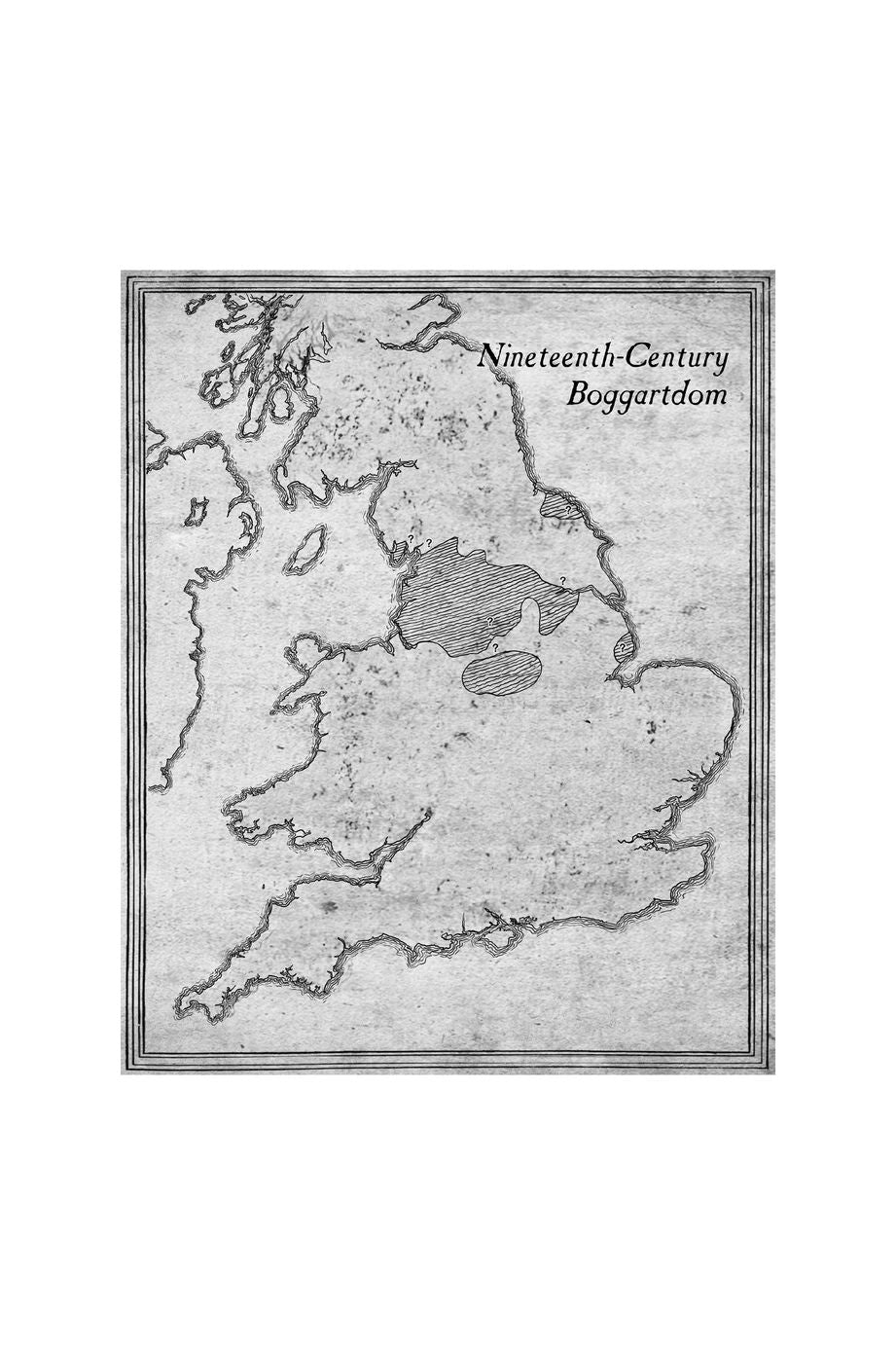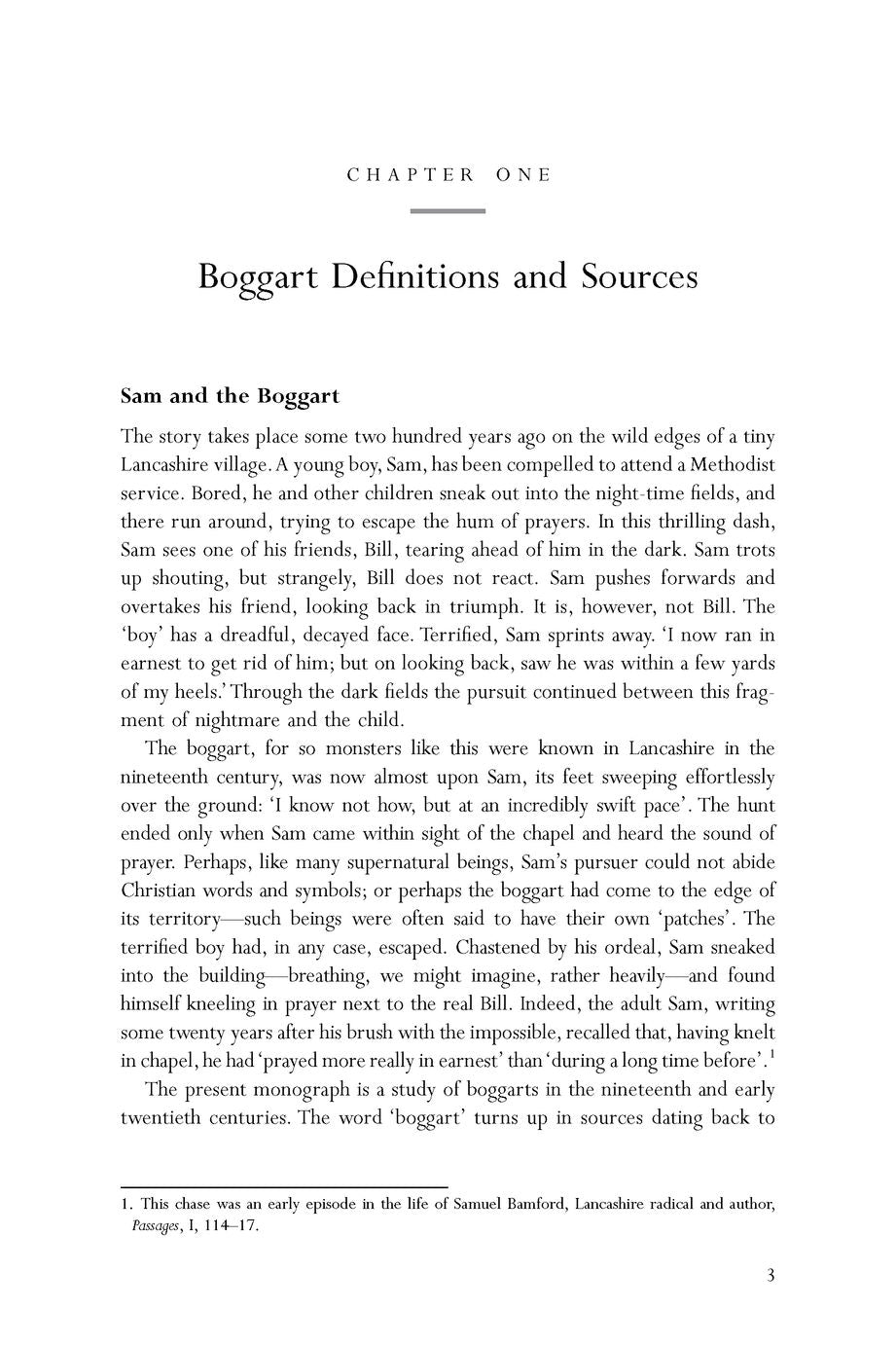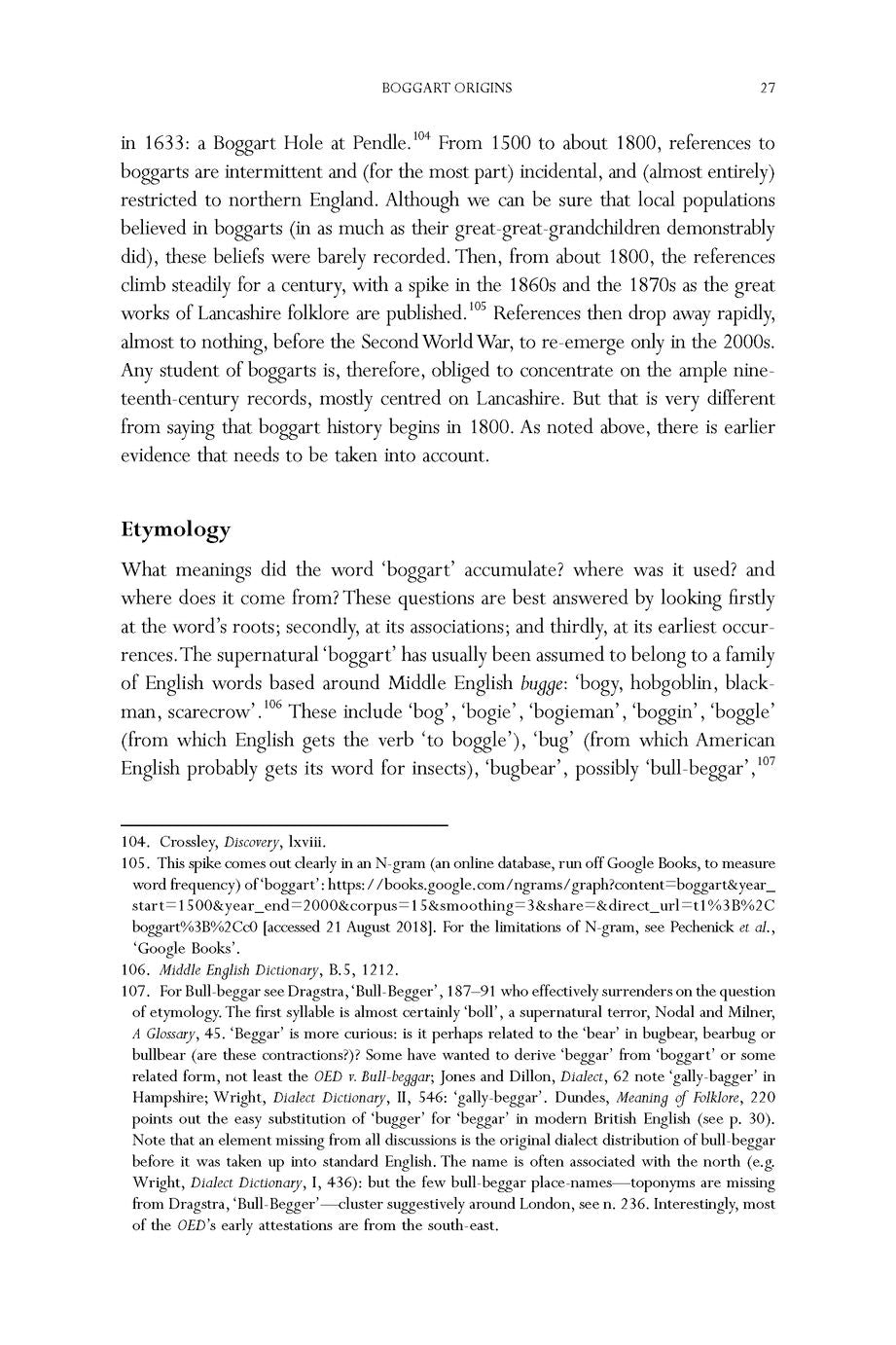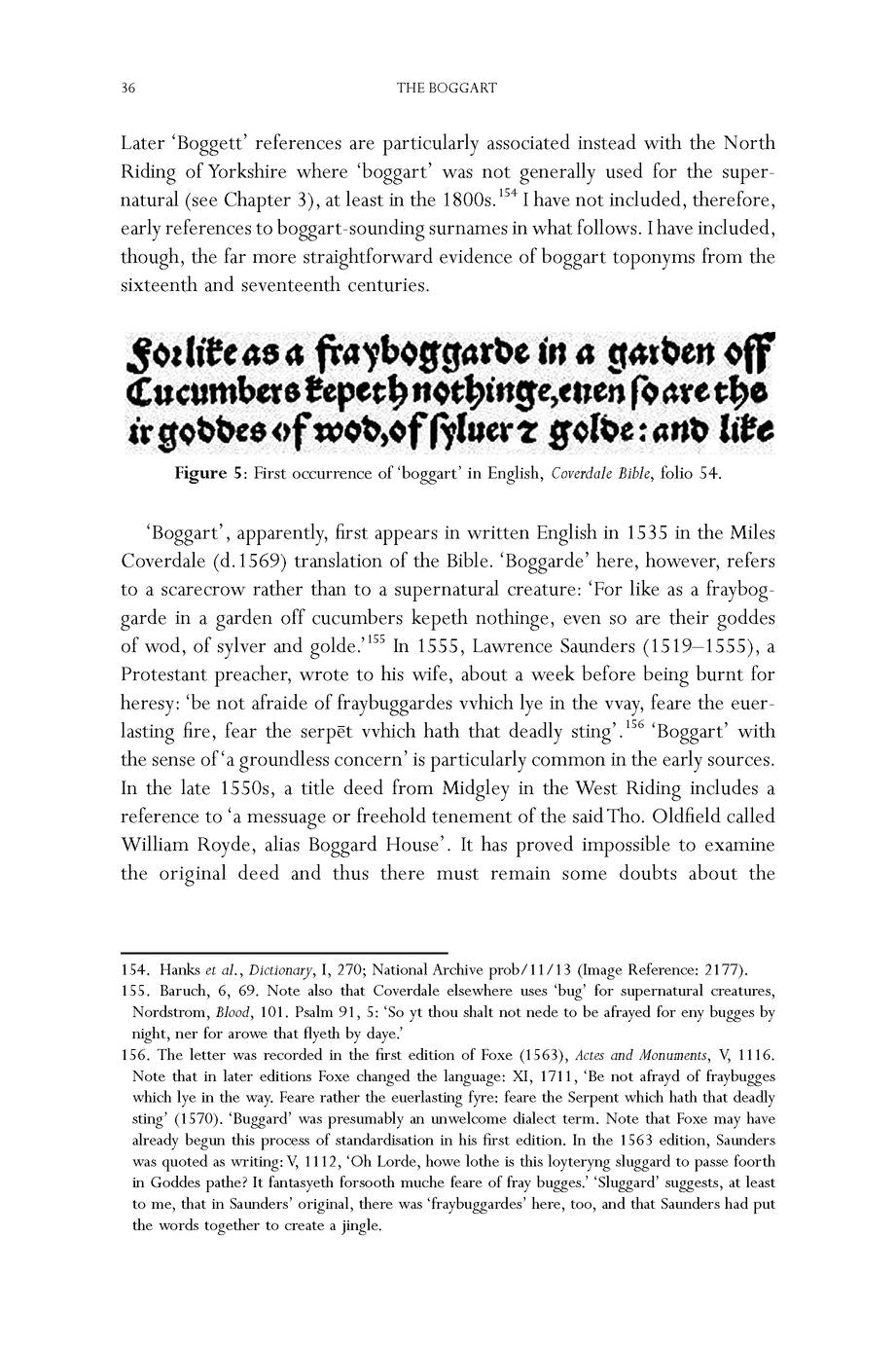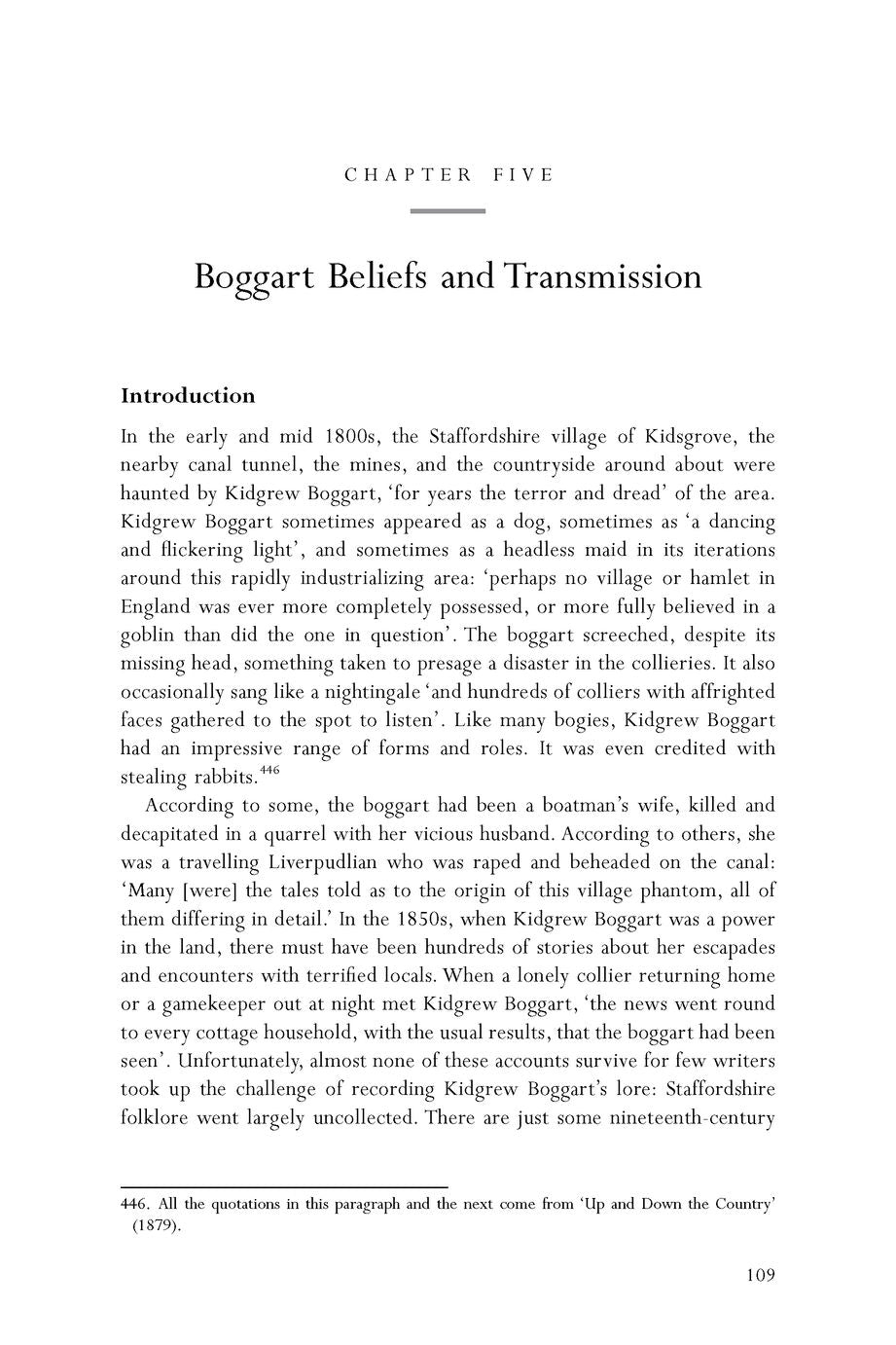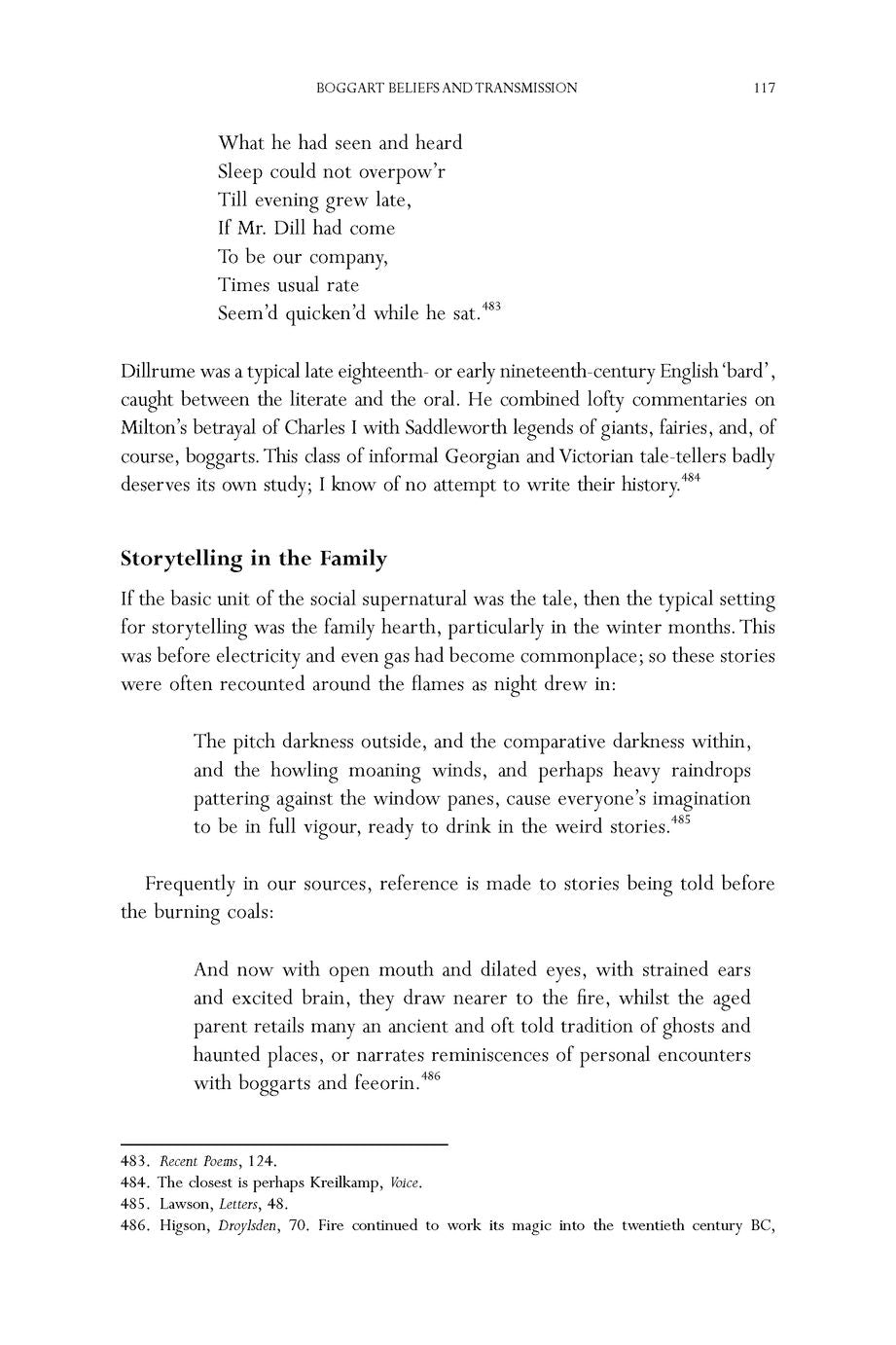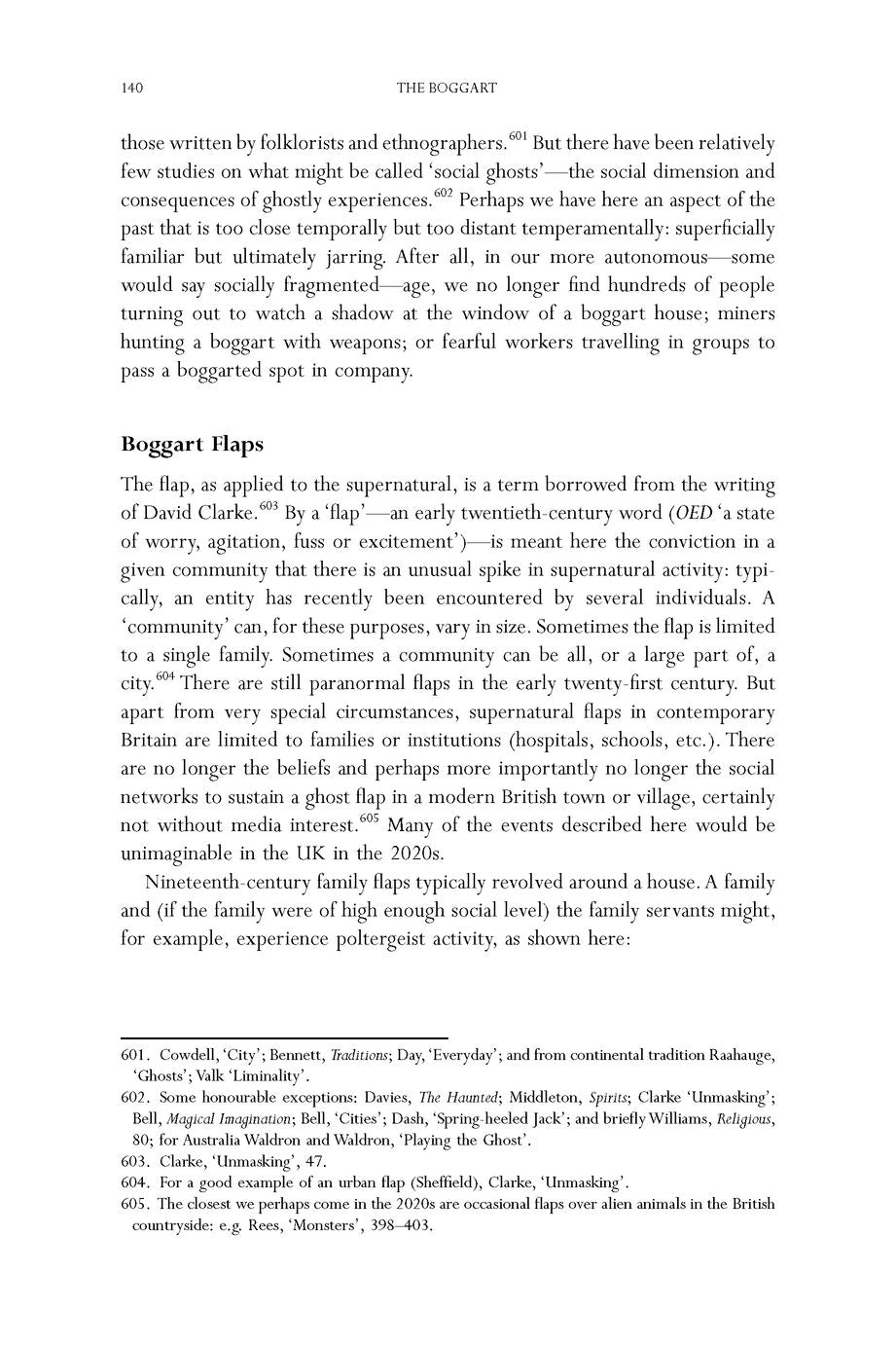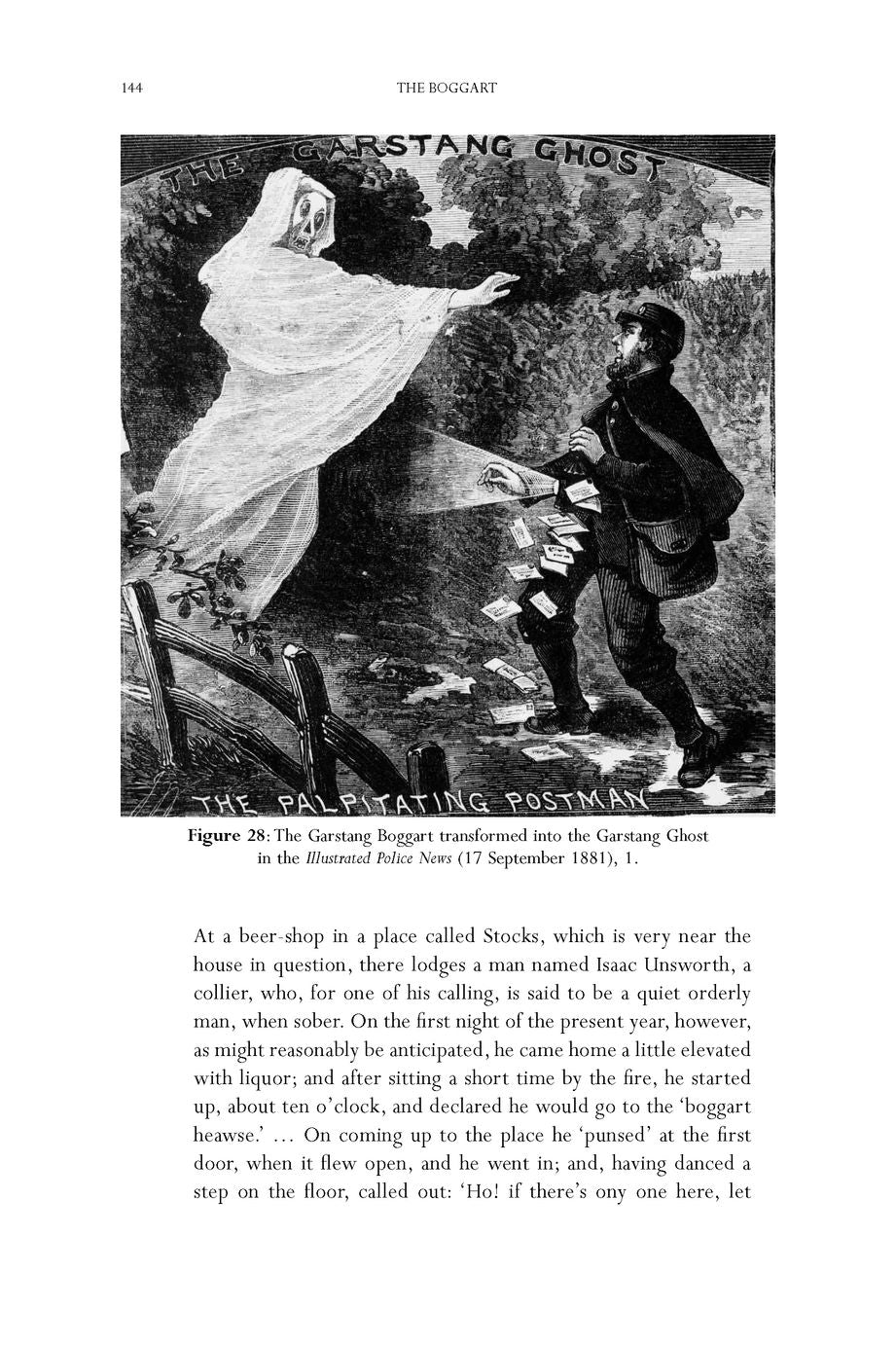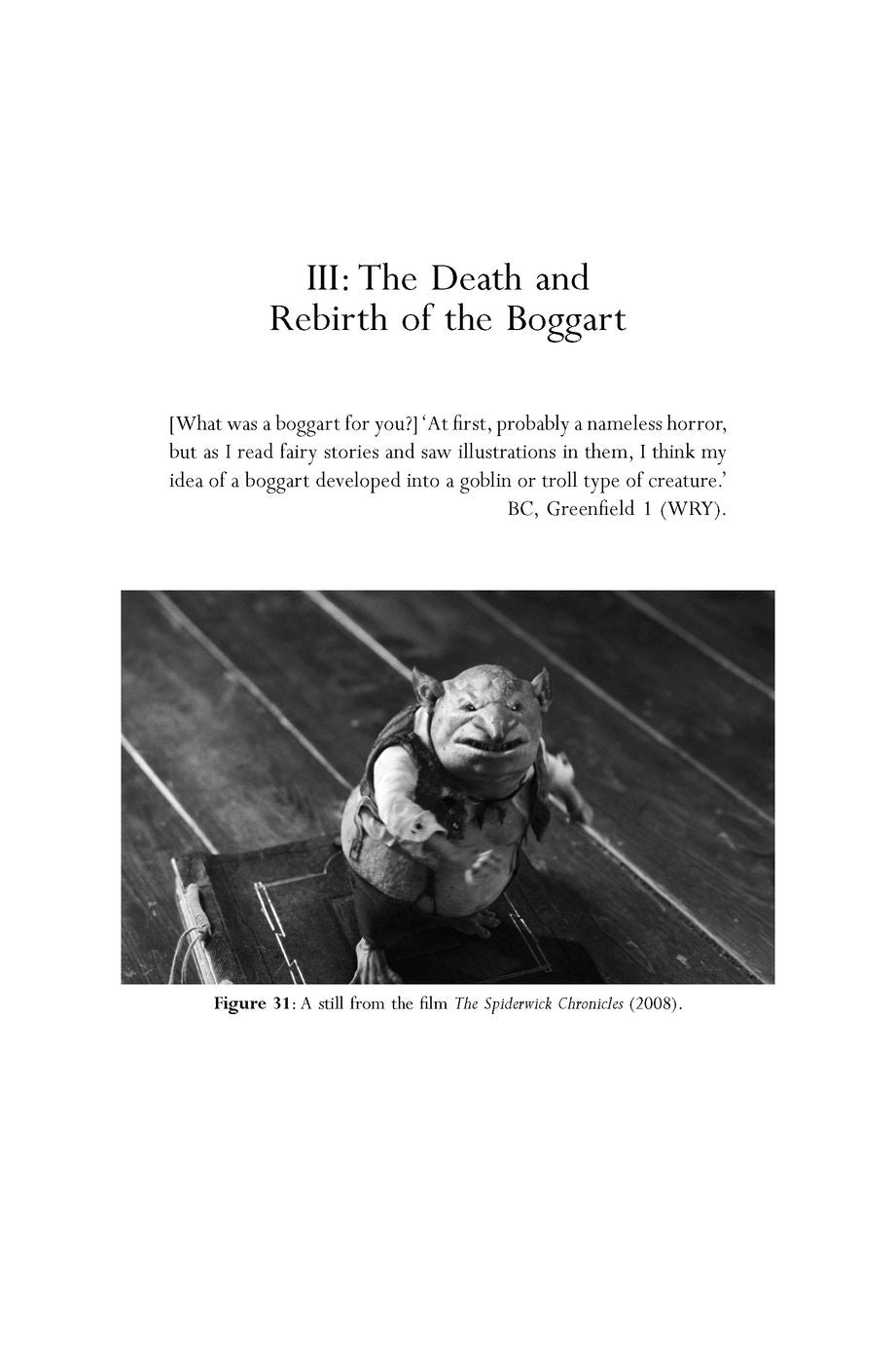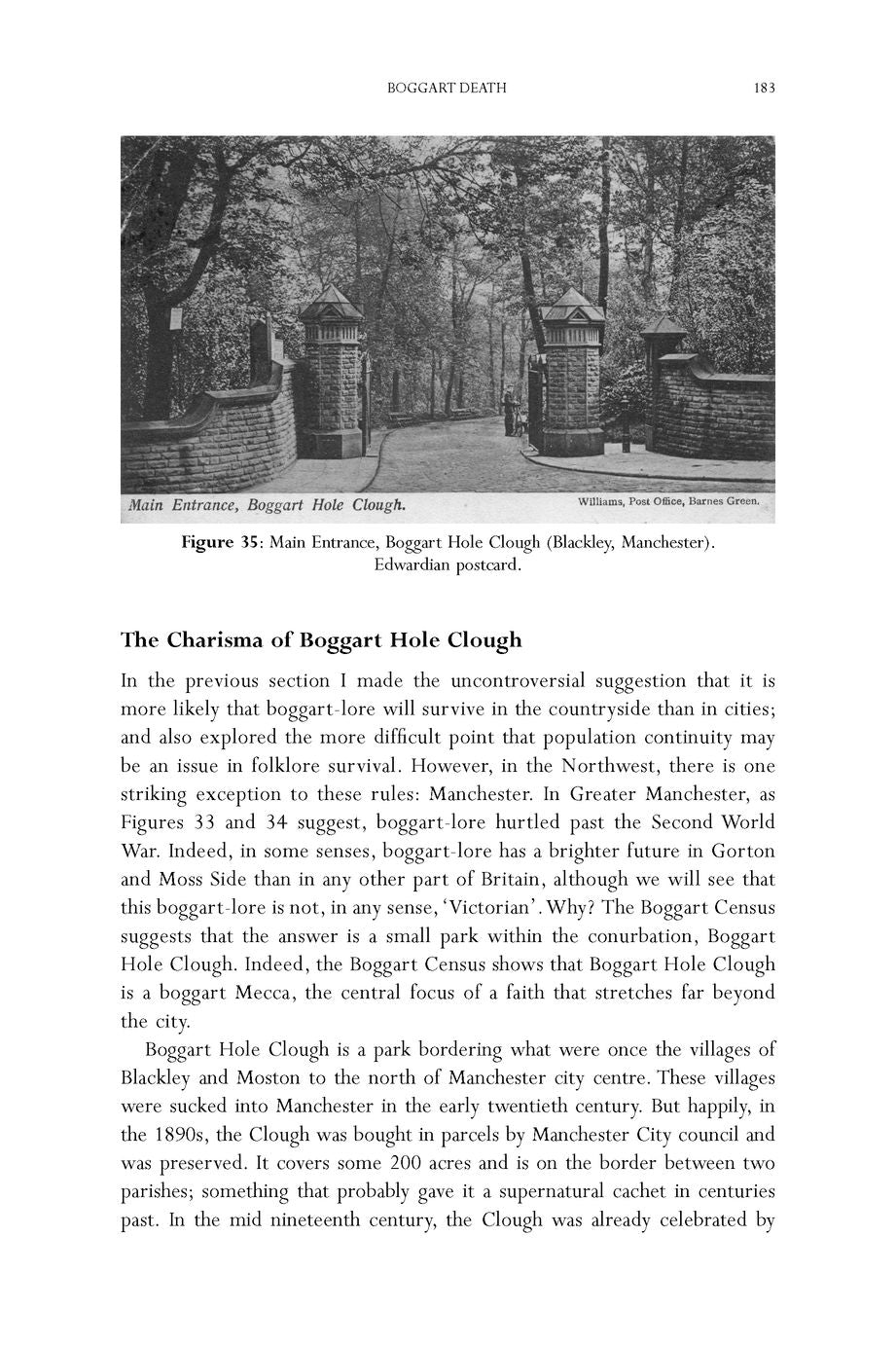 Honourable mention for The American Folklore Society's Wayland D. Hand Prize for outstanding book combining historical and folkloristic methods and materials.
Runner up for The Folklore Society's 2022 Katherine Briggs Award for most distinguished contribution to folklore studies.
The little-studied and once much-feared boggart is a supernatural being from the north of England. Against the odds it survives today, both in place-names and in fantasy literature—not least the Harry Potter universe. This book pioneers two methods for collecting boggart folklore: first, the use of hundreds of thousands of words on the boggart from newly digitized ephemera; second, about 1,100 contemporary boggart memories from social media surveys and personal interviews relating to the interwar and postwar years.
Combining this new data with an interdisciplinary approach involving dialectology, folklore, Victorian history, supernatural history, oral history, place-name studies and sociology, it is possible to reconstruct boggart beliefs, experiences and tales. The boggart was not, as we have been led to believe, a 'goblin'. Rather, 'boggart' was a much more general term encompassing all solitary supernatural beings, from killer mermaids to headless phantoms, from black dogs to shape-changing ghouls.
The author shows how in the same period that such beliefs were dying out, folklorists continually misrepresented the boggart, and explores how the modern fantasy boggart was born of these misrepresentations. As well as offering a fresh reading of associated traditions, The Boggart demonstrates some of the ways in which recent advances in digitization can offer rich rewards.
Simon Young is one of the leading scholars of a new generation of folklorists. His research and scholarship in this evolving and exciting discipline is thorough and outstanding. His meticulous attention to detail and skill in using newspaper archives as primary sources for folkloric materials makes The Boggart a unique resource for those who wish to delve deep into traditions of supernatural belief in England and elsewhere.

David Clarke, author of Supernatural Peak District and Associate Professor, Centre for Contemporary Legend, Sheffield Hallam University

This is an excellent study, focusing on an aspect of the folklore from one corner of England. Drawing on a wide range of sources beyond the 'usual suspects', it presents a new, multidimensional picture of a particular folk belief.

Jonathan Roper, author of Charms, Charmers and Charming and Associate Professor of English and Comparative Folklore, University of Tartu

Boggarts are elusive creatures, but Simon Young has vividly captured their inherently slippery natures. Never before has the landscape of Boggartdom been so carefully mapped, nor its history so comprehensively told. 

Dr Ceri Houlbrook, author of Magical Folk, Building Magic and The Materiality of Magic and Lecturer in Folklore and History, University of Hertfordshire

The Boggart is a ground-breaking exploration of a supernatural entity from the north of England. More importantly the author offers an object lesson in how we can recreate, on the page, vanished mental universes. Key to his success is combining digital resources (even Facebook!) with a cross-disciplinary approach (linguistics, onomastics, history, oral history and folklore). What emerges is a study of the boggart ecosystem, as Simon Young describes it, exploring a hazy land that only nuance crafted by an expert can bring to focus. Here is the definitive treatment of the wispy tradition of the boggart.

Ronald M. James, author of Introduction to Folklore and The Folklore of Cornwall

The study of legends in relation to the landscape and its evolution has seldom been pursued by scholars. Simon Young offers a truly innovative combination of landscape studies, social history, linguistics and folkloristics. His book transforms our understanding of how legend and landscape interact at the local level.

Davide Ermacora, University of Turin

The Boggart is a meticulous, eye-opening and likely definitive account of a central figure in the folklore of the North of England.

Francis Young, author of Magic in Merlin's Realm

The amount of focus, lateral thinking and sheer dogged research that has gone into this work is admirable dedication, and leavened by a light touch that makes it intensely readable throughout.

John Billingsley, Northern Earth

In stories, plays, films and folklore collections [the boggart] became remote from the anarchic and frightening creatures of lonely lanes, deserted houses and bleak moors that the ordinary people of the nineteenth century reported. These are the stories which Young has uncovered in searching digital archives of newspapers and other ephemera, allowing us a much clearer picture of the boggart as a creature of the folk, rather than the folklorist.

John Rimmer, Magonia Review

Detailed, scholarly, packed with great tales and interesting speculations, The Boggart is a groundbreaking study that rescues and re-establishes the scary boggart of the 19th century.

Katherine Langrish, Gramarye

...a highly informative monograph on the 'boggart'...this book sets a benchmark.

Ian Shiels, Northern History

...one would have to struggle to find a comparative analysis of a supernatural being or myth/folklore-related creature that can be compared to the depth and detail presented in the work done by Simon Young. Young's research successfully manages to empirically outline a myth by tracing the historical, linguistic, and cultural development of a phenomenon.

Marko Lukić, Oral History Society

The Boggart is a brilliant piece of scholarship that brings to life, through a wide-range of research material, the essence of what lurked in the shadows of society.

Nigel Watson, Fortean Times

The Boggart is well written, with light touches of humor that make this a compelling and enjoyable read. Given both this and the quality of the research underlying it, the book represents a stellar study of British popular belief that should be seen as an exemplar for future works on similar topics...The Boggart is folklore history at its best, a book that deserves a very wide readership.

Ethan Doyle White, Reading Religion

This comprehensive and groundbreaking study will be essential reading for folklorists, historians, social scientists, and others interested in the world of the supernatural, not least in providing an outstanding model for innovative research in these and related fields.

J. D. A. Widdowson, Tradition Today

There is a wealth of information here to be drawn in and fully to inform the reader seeking to explore our forebears' lives as they involved the supernatural both in earnest and in fun, and to understand how beliefs emerged, existed formerly, and are being transformed for the modern age. 

Clive Upton, Transactions of the Yorkshire Dialect Society

Because Young's writing style is lively, engaging, and accessible, The Boggart appeals to both scholars and general readers. One does not need to be a folklorist to enjoy reading about this supernatural figure's development over time and to savor the local legends in which it has a starring role. The range of Young's research is impressive, and his inclusion of intriguing images and maps adds to the book's impact. For scholars who are interested in writing books about the development of a particular supernatural figure, this study offers a valuable model.

Elizabeth Tucker, Journal of Folklore Research Reviews

...there should be more studies of this quality on the subject of creatures of folklore, whatever the region concerned. We hope to read more books of this type in the future.

Guillaume Oudaer, Nouvelle Mythologie Comparée

Simon Young has reclaimed a forgotten supernatural being in all its formless awe.

Jeremy Harte, Folklore

This is meticulously and reflectively researched, with rigorous academic argumentation, yet also eminently readable. While covering the wide philosophical and ethical debates surrounding interpreting, collecting and studying folklore generally, it doesn't fail to pin down the material with ease–from delivering an in-depth study of historical toponymics, to a diagram depicting the 'folk taxonomy of Boggartdom'. A delight in every way.

Katharine Briggs Award Panel

An immensely comprehensive examination of boggart-lore in a specific part of Northern England he calls "Boggartdom" throughout Victorian times and beyond. … This book should appeal to anyone interested in nineteenth-century supernatural subjects in general or the boggart in particular.

Taten Shirley
The Incredible Nineteenth Century
Abbreviations
Illustrations and Maps
Acknowledgements
Preface
Part I: Situating the Boggart
1. Boggart Definitions and Sources
2. Boggart Origins
3. Boggart Distribution
Part II: Lived Boggart Folklore
4. Boggart Landscapes
5. Boggart Beliefs and Transmission
6. Social Boggarts
Part III: The Death and Rebirth of the Boggart
7. Boggart Death
8. The New Boggart
Conclusion
Appendix: Boggart A–Z
Bibliography
Index
DOI
https://doi.org/10.47788/KZLH9484