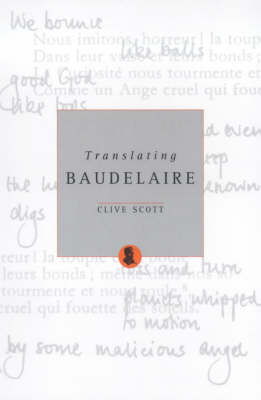 This book is the record of an apprenticeship in translating Baudelaire, and in translating poetry more generally. Re-assessing the translator's task and art, Clive Scott explores various theoretical approaches as he goes in search of his own style of translation. In the course of the book, versions of seventeen of Baudelaire's poems are offered, with detailed evaluations of the poems and the translations.

Translating Baudelaire considers two neglected questions: What form should the criticism of translation take, if the critic is to do justice to the translator's 'project'? How can a translator persuade readers to respond to a translation as a text with its own creative dynamic and expressive ambitions?

"Clive Scott's Translating Baudelaire offers exhilarating perspectives on the practice of (verse) translation. Imbued with a postmodernist sense of the mobility and provisionality of text, he seeks to liberate the translator from what he calls "pre-postmodernist" anxieties . . . His unrivalled ability to analyse French verse and his remarkable talents as a wordsmith, indeed as a poet, combine to produce compelling renderings of some of Baudelaire's finest verse. His book is an intoxicating invitation to jouissance, promising redemption from "a state of punishment, in which we are compelled to reiterate our sense of loss". But after he has explicated his own, fine translation of "Le Voyage"—his choices of form and lexis, his "intercutting" (intertextually inspired additions) and allusions—one may be left with the residual sense of having been lured into an artificial paradise, a pre-postlapsarian realm as it were, in which the translator has conscious intentions which explain his text. One had thought such an author dead." (Times Literary Supplement, April 27, 2001)




Contents: A defence of foreignizing translation; translating rhythm; the dead language of translation; translating and co-authoring; translation and transformation; "shot" and "reverse shot" translation; the route through prose; the criticisms of translation; translation and intercutting. Appendices: "translations" of translations of "La Cloche felee"; texts of of Verlaine's "Nevermore", Elliot's "Nevermore" and Baudelaire's "Le Balcon"; text of Baudelaire's "Assommons les pauvres!"; text of Baudelaire's "Le Voyage".