The Beginnings Of The Cinema In England,1894-1901: Volume 5
1900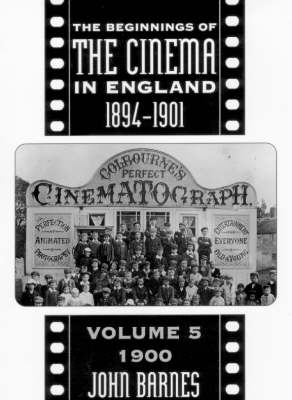 Describing in detail one of the most inventive periods in the history of English cinema, the volumes in this celebrated series are already established as classics in their field and represent a major contribution to international film studies. Each volume details the highlights of a single cinematic year, including details of production, manufacturers of equipment, dealers and exhibitors. This is augmented by numerous carefully chosen illustrations and a comprehensive filmography of English films, fiction and non-fiction, for the year. Particular attention is also paid to the ways in which the cinema of other countries affected the English industry.
Volume 5 documents the emergence of Cecil M. Hepworth as one of England's major film producers in 1900. The work of England's two premier pioneers in the field of cinematography, Robert W. Paul and Birt Acres, is also examined. The conflict in South Africa against the Boers and the uprising of the Boxers in China proved popular subjects for new films and fictional representations. Forgotten pioneers of film are rescued from oblivion in this volume through the attention paid to their roles in English cinema. Volume 5 is introduced and edited by Richard Maltby.
The long-awaited fifth and final volume in the series is published for the first time by UEP, and edited and introduced by Richard Maltby, Professor of Screen Studies, Flinders University, Australia.
Describing in detail one of the most inventive periods in the history of English cinema, this series represents a major contribution to international film studies. Each illustrated volume details a single cinematic year, including details of production, manufacturers of equipment, dealers and exhibitors, as well as a comprehensive filmography of English films, fiction and non-fiction, for the year. The previous volumes are aready established as classics in their field and have recently been re-jacketed and re-issued by University of Exeter Press.The fifth and final volume documents the year 1900, when the conflict in South Africa against the Boers and the Boxer uprising in China proved popular subjects for news films and fictional representations. It includes a full Introduction by Richard Maltby which places Victorian cinema in its cultural, social and historical context

'The legacy of John Barnes to the study of early cinema can hardly be overestimated.'
'The Beginnings of Cinema in England is a monumental work and an essential reference guide. Its availability as a paperback is especially welcome to (graduate) students as the five volumes are very complete in situating the birth of cinema within its historical context.'
(Gert Jan Harkema, Historical Journal of Film, Radio and Television, September 2015)





'. . . Essential reading . . . A labour of love that will intrigue any cineaste.' (Film Quarterly)





'Film studies for years to come will be indebted to him for having immeasurably enriched the literature on his subject.' (Quarterly Review of Film Studies)





'Perhaps it is a symptom of this change that the Barnes brothers have now found a publisher in the form of the University of Exeter Press, who have not only brought out this latest volume in style, but have re-issued volumes 2 to 4 in a uniform binding (with a promise of a totally revised volume 1 in 1998). Perhaps, at last, the British academic and archival establishments are coming to appreciate the fascination of the early cinema, a fascination that John and William Barnes have felt for over 60 years.' (Film History, Vol. 10, No. 1, 1998)





'This remarkable set of books should be in every university library in the country, and on the shelves of every film historian.' (Viewfinder, No. 32, February 1998)





'Beginnings of the Cinema in England belongs beside such founding works as Rachael Low's History of the British Film and Denis Gifford's British Film Catalogue. It is an essential work in the literature of the film.' (Film Quarterly)




Illustrations

Publisher's Acknowledgements

Introduction: Richard Maltby

Foreword

1. Three Pioneers-Paul, Acres, and Hepworth

2. The South Coast Filmmakers-Smith, Williamson, and West

3. American and French Connections

4. Manufacturers and Dealers

5. Exhibitors

6. Home Movies

Appendix 1: British Films of 1900

Appendix 2: Revised List of Biograph Films for the Year 1899

Appendix 3: Amendments and Additions to Volume 4

Epilogue and Acknowledgements

Notes

Index of Film Titles

General Index