Alternative Empires
European Modernist Cinemas and Cultures of Imperialism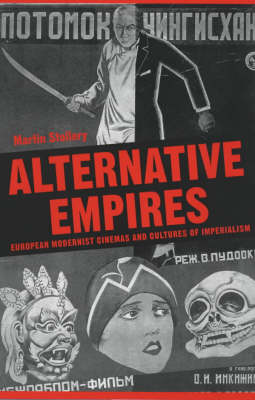 The book integrates theoretical discussion and textual analysis with primary source historical research, particularly into film reception. The case studies question received understandings of European film history, and offer new insights into canonical films already familiar to many readers.

It is the first book length study of the subject and includes new insights into Fritz Lang's Metropolis, Eisenstein's October and the Griersonian Documentary as well as 'forgotten' films of the period. It is a useful teaching aid, with detailed analyses of films taught on most film studies courses

This is the first book to study representations of the non-Western world in European modernist cinema. In offering new perspectives on the history of Soviet montage cinema and on the British documentary movement, it connects with the growing body of work analysing manifestations of orientalism, Eurocentrism and colonial discourse in the cinema.

'the book's inquiry into ethnic representations of imperial cinemas of modernism is a welcome and impressive contribution to the field. Its analyses are thorough and thought-provoking, and in many instances constitute a truly original way of looking at these films.' (Alternative Empires: European Modernist Cinemas and Cultures of Imperialism, Quarterly Review of Film and Video, No. 20, 2003)





"Stollery's exciting project…is a welcome and impressive contribution to the field. Its analyses are thorough and thought-provoking, and in many instances constitute a truly original way of looking at these films." (Quarterly Review of Film and Video, No. 20, July-September 2003)




Acknowledgements

Introduction

1. New Directions in European Cinema Studies

2. European modernist cinemas and Eurocentric modernity

3. The European Cinematic Metropolis and its Others

4. Montage, Modernity and Ethnicity

5. Kino-eye's Global Vision

6. The British Documentary Film Movement's Enlightened Imperialism

7. Receptions of Empire in 1930s British Film Culture

8. Contemporary Legacies

Notes

Bibliography

Index