The Blood-Red Arab Flag
An Investigation Into Qasimi Piracy 1797-1820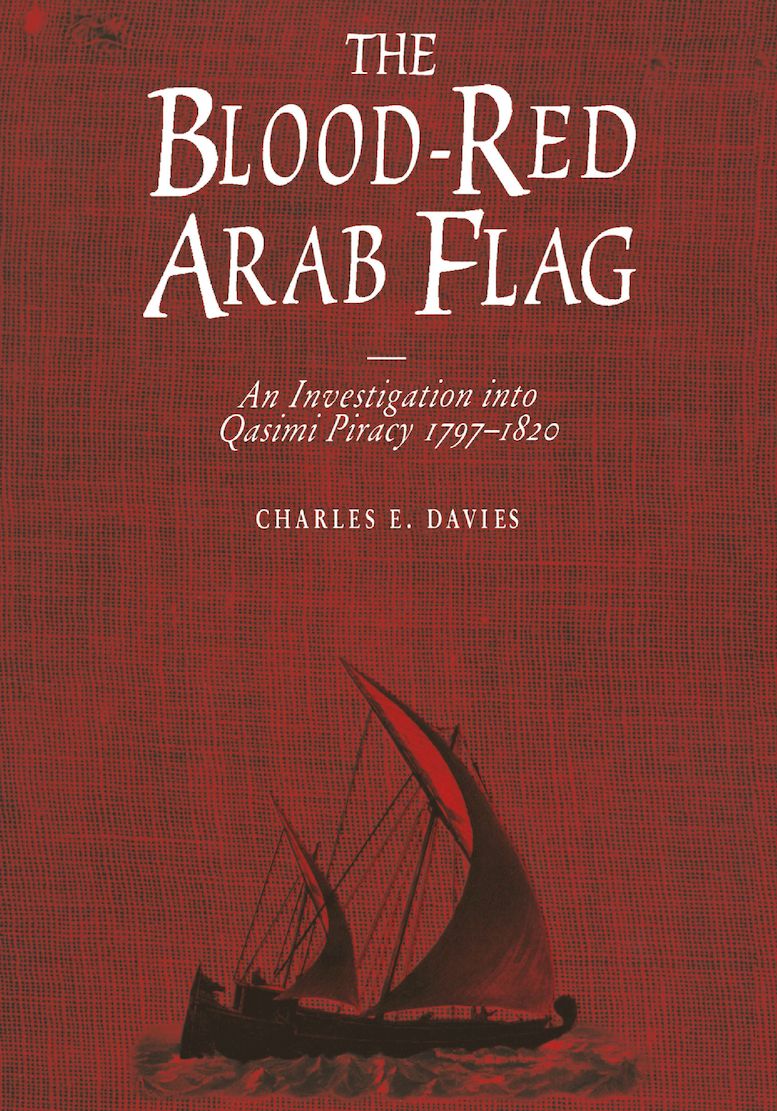 During the years 1797-1820 the Qasimi Arabs or Qawasim, inhabitants of the present day United Arab Emirates, acquired an enduring reputation as ruthless pirates. Some of their victims flew the British flag, and thus their actions were to provide the initial stimulus and justification for 150 years of British involvement in the Gulf.
Recently, however, it has been doubted whether the Qawasim were in fact pirates. In a scholarly but accessible account founded on contemporary sources, illustrated with testimonies of eye-witnesses and participants, this book sets out to decide this controversial question. By making use of valuable and hitherto untapped archival material, Charles Davies strongly evokes a flavour of life in the Gulf in this turbulent and formative period in the Gulf's history.
This book represents the first in-depth investigation into this controversial subject. It is based on original research and and helps to explain why the Gulf is as it is today.
This is more than just an analysis of piratical acts; it is a successful attempt to understand what ingredients made the players act the way they did. It also provides the reader with a vivid and credible account of what life was like, both at sea and on land, for Persian Gulf dwellers, and in particular for the Qawasim pirates.

International History Review
University of Exeter Press have been brave to bring out a book on what is at first sight a very specialized subject, and Davies himself must be congratulated for going beyond that narrow focus to write a book that, because of the way it makes its arguments and uses evidence, has a wider significance. It also has to be said that the book has been beautifully produced . . . this is one of the best designed books I have seen for a long time. 

The Mariner's Mirror
The Blood-Red Arab Flag offers such a detailed and surgically sharp analysis of British policy and action, on the one hand, and the maritime history of the Gulf in general and the Qawasim in particular, that it may indeed, for a considerable time, be regarded as the definitive work on the subject - this book is highly recommended. Davies has made a major contribution to a crucial period of Gulf and British history which maritime historians will read with great advantage.

The Northern Mariner
Despite the lurid title, this is a serious historical work-sometimes indeed a little too serious to make for easy reading-but it does lead us to a fascinating but almost forgotten area of Middle Eastern history. . . A fascinating and scholarly book . . .

Times Literary Supplement
. . . The book's analysis shows that the common superficial view of piracy in the Gulf area obscures not only the complex issues of the relations between the Gulf states and Britain but the actual nature and ramifications of this particular chapter in the history of marine violence. . . This book makes a major contribution to Arab Gulf studies.

Lloyd's List

Illustrations
Acknowledgements
Preface
A Brief Chronology of Events
Dramatis Personae
Part One: Introductory
Prologue
1 Outline
2 The Setting
3 The Players
Part Two: Of the Evidence
4 The Question of Piracy
  a) Tableux
5 Incidents at Sea, in the Years 1797-1819, Which are Attested by Virtue of Admissions or Possession
6 The Most Important Cases of Alleged Piracy by the Qawasim Against British Vessels
   b) Perspectives
7 Local Opinion
8 Cruiser Commanders' Blunders
9 Off the Indian Coast
Part Three: Interpretation
10 Preliminary Sketch
11 Political History
12 The Port of Ras al-Khaima, Her Society and Economy
13 Some More Piquant Ingredients in Qasimi Maritime Plunder,
Conclusion
Afterword: The Motivation behind Britain's Two Expeditions Against Ras al-Khaima in 1809/10 and 1819/20
Appendix A The Qawasim's Seizures off the Coast of India
Appendix B Qasimi Voyages to South Arabia
Appendix C Ras al-Khaima's War with Muscat, and the Political Fortunes of the Za'ab and the Tanaij, 1808-1809
Appendix D Hostilities Between Muscat and the Wahhabis in the Aftermath of the First Ras al-Khaima Expedition of 1809/10
Notes
Bibliography
Index